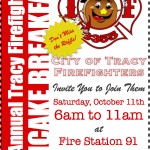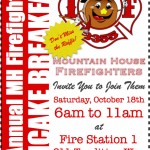 The Tracy Firefighter's will be hosting their annual (41st) Pancake Breakfast in Tracy on October 11th (Saturday) and October 18th (Saturday). The Breakfast starts and 6 a.m. and ends at 11 a.m. There will be a raffle, T-shirts for sale, an auto extrication, a Firefighter Combat challenge for the kids and of course Pancakes.
Please bring your friends and family out to both breakfasts, hang out with your Local Firefighters, and have some Pancakes!
Hope to see you there!