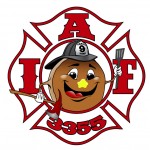 Tracy Firefighter were able to raise over $7,000 in proceeds during the 40th annual "Pancake Breakfast". All of the proceeds will go to local charities of the Tracy and Mountain House area.
We would like to thank everyone who supported the event and we has a great time seeing the community at the fire house.
Please submit an "Application For Donation" above by clicking the tab, if in need of a donation from TFFC 3355. The most in need will be assisted with the resources that we have available.
Thank you very much
TFFC 3355